ME-80 Acoustic Guitar by Rich Eckhardt
New
A patch collection created with ME-80 for acoustic guitars by a well-respected guitarist, Rich Eckhardt. This patch collection makes your acoustic guitar tone dramatically vivid regardless of playing style.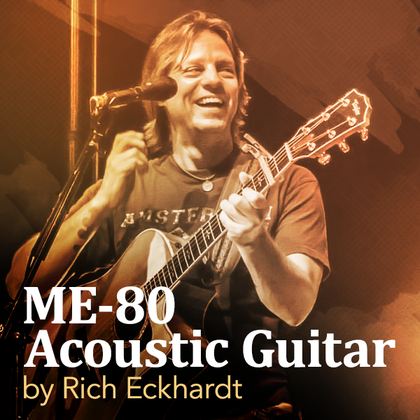 Rich Eckhardt -- Rich Eckhardt has performed in nearly every major concert venue in the world. He has played on Grammy winning and multi-platinum albums. Ted Nugent listed him among his top favorite players list. Rich has two critically acclaimed solo albums "Soundcheck" and "Cottage City Firehouse". Rich has become one of the most sought after guitarist in Nashville. He has performed with a who's who of artists ranging from Steven Tyler and Sammy Hagar to Shania Twain and Blake Shelton. He appears regularly on the ABC hit television series Nashville and has been playing lead guitar for country superstar Toby Keith since 1998.
To use this live set, please install the BOSS TONE STUDIO application dedicated to your product. Please check the supported product list and download the matching BOSS TONE STUDIO for your product.